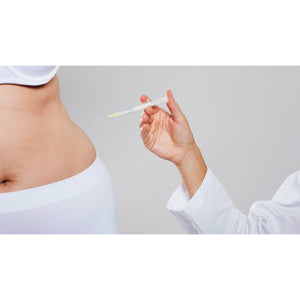 Lipotropic B12
$11000

$110.00

Save $-110
Tax included.
---
---
PHYSICIAN CONSULT REQUIRED

*The purchase of this product requires an individualized consultation (separate fee) that requires a 15 minute telemedicine visit and establishment as a patient in our practice. At that time an individualized treatment plan will be initiated with appropriate therapy based on your medical history and health assessment.*
Methionine Inositol Choline (MIC) Injections, also referred to as Lipo-B "Fat Burner" Shots, are used to help release fat throughout the body by specifically targeting its primary fatty deposits, namely the stomach, inner thighs, neck, buttocks, hips, and underarms. Lipotropic, or fat burning substances include: inositol, choline, and methionine. B-12 can boost energy. Injections can be administered up to twice a week.
The injections are prescription MIC or Megaburn (contains MIC plus 6 addtional B Vitamins, L-Carnitine, and immune boosting Vitamin C for maximal results).   
Commonly Asked Questions:
What are Lipotropic-MIC injections?
Lipotropic agents support liver function and promote excretion of fat.  MIC stands for Methionine, Inositol and Choline.  These amino acids play a crucial role in fat metabolism and elimination of abnormal fat deposits.  L-Methionine (M) is an amino acid crucial for fat metabolism. Inositol (I) and Choline (C) are cofactors equally important in the process of fat metabolism. 

What are the benefits of Lipotropic-MIC injections?
Our patients have experienced great results from continual use of Lipotropic-MIC injections.  Some of the many benefits include a large increase in natural energy which helps with mental clarity and focus.   This may also help you to maximize your effort in the quest for fat loss by increasing your overall calorie expenditure through extra energy.  The patients who experienced the greatest results were those who received their doses on a twice weekly basis and participated in resistance training (weight lifting, bands) exercise.
Are Lipotropic-MIC injections safe?
Typically these injections are safe.  This is simply a concentrated blast of Vitamin B-12 and the three amino acids Methionine, Insitol and Choline supplied intramuscularly. If you have a sulfa allergy, you should avoid Lipo-B Injections and may benefit instead from plain B-12 injections.