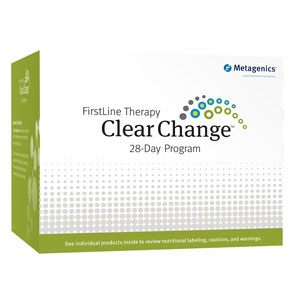 Clear Change 28 Day Program
$33500

$335.00
Tax included.
---
---
What Is Metabolic Detoxification?
Each year, more than 4 billion pounds of chemical compounds are released into the environment. Although the body is designed to naturally process and excrete these elements, an abundance of environmental agents combined with poor diet and nutrition can lead to an overburdened system. Metabolic detoxification helps by providing advanced, targeted nutrition to support the elimination of unwanted chemicals from your system.
When to Consider Metabolic Detoxification
Difficulty Concentrating
Mood Swings
Difficulty Sleeping
Lack of Energy
Feel Bloated
Have Occasional Digestive Discomfort
Live or work around Environmental Pollutants
The Clear Change Program featuring UltraClear RENEW is designed to enhance the body's natural metabolic detoxification process while providing adequate fuel for both cleansing and other daily activities—providing energy and support for overall wellbeing. Components Include:
UltraClear® RENEW (or other UltraClear® product recommended by your healthcare provider) provides you with all the nutritional support needed to be successful on the program. (

Available in 3 flavors: Berry, Chai, and Vanilla)

AdvaClear® capsules provide detoxification and antioxidant support that promotes overall well being.